Huepar 903DG - 3D Laser Level Multifunction Green Beam Line With Remote Control and Lithium ion battery For Tiles Floor
translation missing: en.products.product.price.regular_price
$139.99 USD
translation missing: en.products.product.price.sale_price
$139.99 USD
translation missing: en.products.product.price.regular_price
$189.79 USD
⏱ 2023 HUEPAR DISCOUNT CODE:&nbsp
HUEPAR
Fast Delivery & ETA:Jan 30 - Feb 03

24 Months Official Warranty: Easy Returns & Exchanges
Huepar 903DG - 3D Laser Level Multifunction Green Beam Line With Remote Control and Lithium ion battery For Tiles Floor
translation missing: en.products.product.price.regular_price
$139.99 USD
translation missing: en.products.product.price.sale_price
$139.99 USD
translation missing: en.products.product.price.regular_price
$189.79 USD
SPECIFICATIONS
24-MONTH WARRANTY
FREE SHIPPING
GREAT SUPPORT
REVIEWS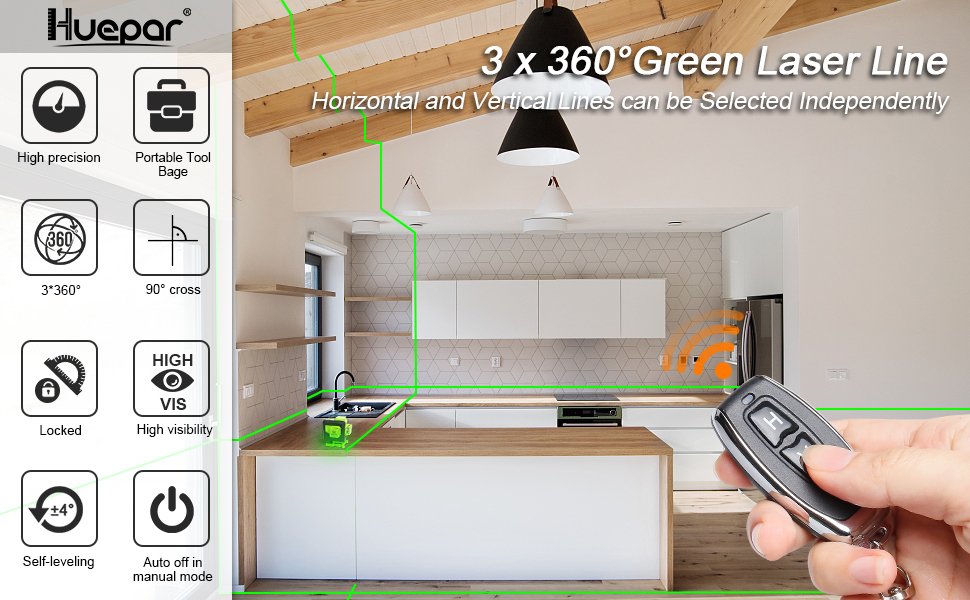 Huepar 903DG 12 Lines 3D Green Laser Level Specifications:
● Laser Beam: Green Beam
● Projection: 12 Green Laser Lines
● Laser Class: Class 2 (IEC/EN60825-1/2014), <1mW power output
● Laser Wavelength: Osram 520nm
● Horizontal / Vertical Accuracy: ±3mm/10m;±1/9 In. at 33 Ft.
● Leveling / Compensation Range: 4°±1°
● Leveling Time: ≤3s
● Working Distance: 40m, ≥50m with detector 132 Ft, ≥165 Ft with detector
● Operating Time & Power Source: 6-8 hours with built-in Li-ion battery 3.7V / 5200mAh
● Mount Size: 1/4"-20
● IP Rating: IP54, waterproof, dustproof and shockproof, reliability and robustness
● Operating Temperature: Between -10℃ and +50℃
● Storage temperature: Between -20℃ and +70℃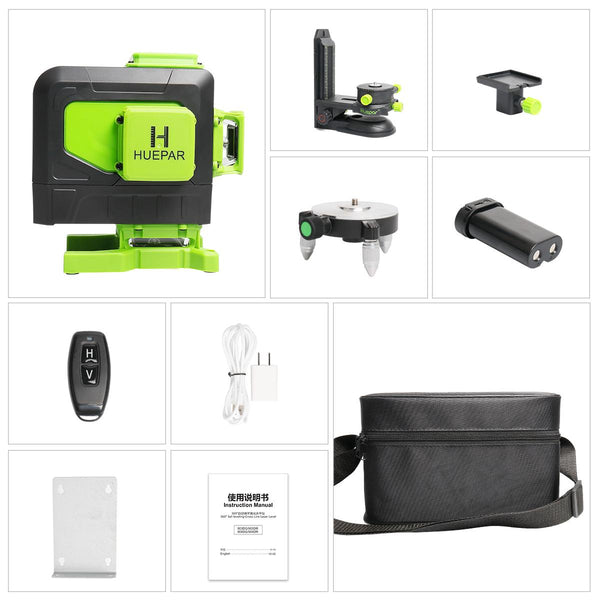 Ground Laser Level Package Contents:
1 x Green Floor Laser Level 903DG
1 x Wall Hanging Plate
1 x Magnetic Pivoting Base
1 x Remote Control
1 x Power Adapter
1 x Li-ion Battery
1x Rotating base
1x User Manual
1x Soft Bag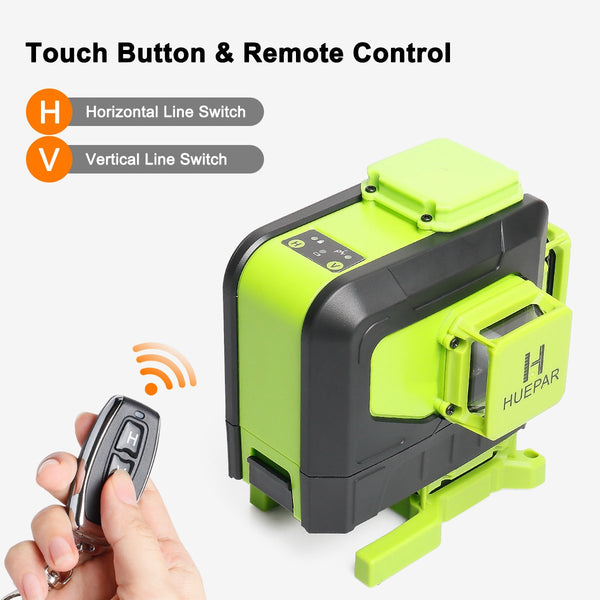 With Remote control
The remote control enables to select three 360° laser lines individually at a distance up to 33Ft.
The laser line(s) of ground laser level can be temporarily turned OFF by the remote control when you need to leave for a while.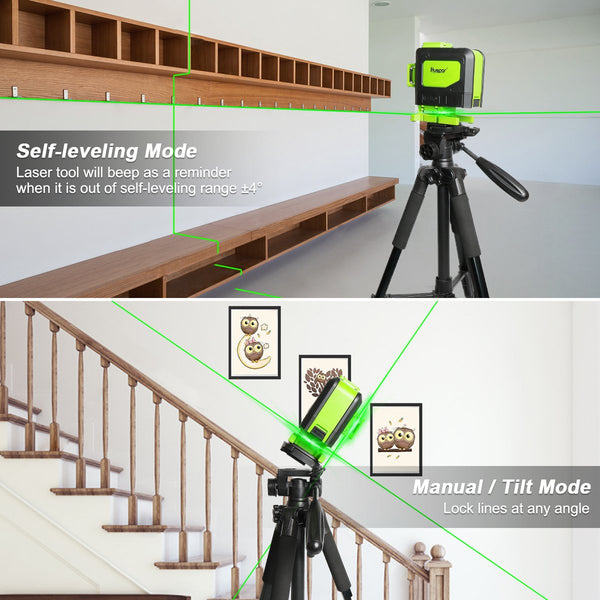 Self-leveling mode:
Once the pendulum unlocked, self-leveling mode is enabled.The laser beam will beep as well as the laser beam blink fast when the tool is out of self-leveling range ±4°.
Manual mode:
When the pendulum locked, the laser tool can be placed for use at any angle.
The laser beam will blink every 3-5 seconds to remind you it's not self-leveling now.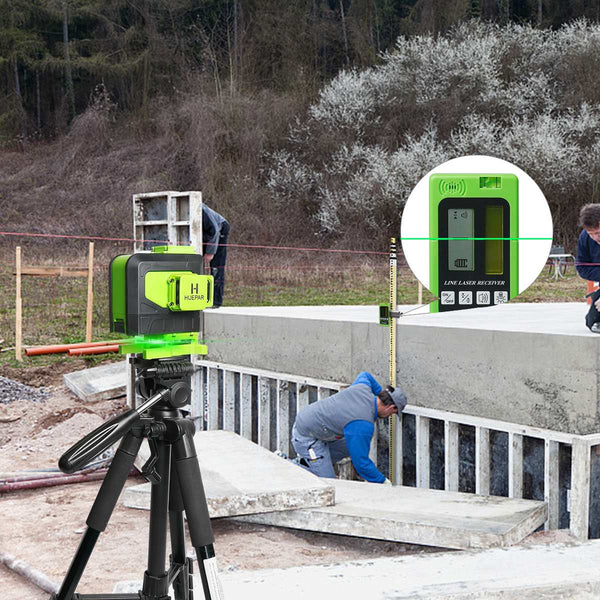 Pulse Mode
Turn ON pulse mode: After power on & switch the pendulum to unlocked position, short press the V button to turn on the pulse mode. The indicator will light up in blue.
Pulse mode extends the working range up to 200Ft. in brighter working conditions when using with Huepar Line Laser Receiver.
Keep the pulse mode on when using with a receiver.
It is compatible with Huepar LR-6RG&LR-5RG Line Laser Receiver only.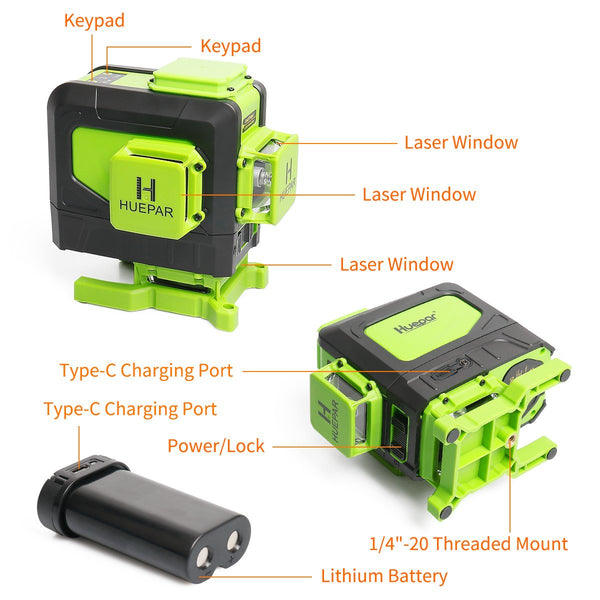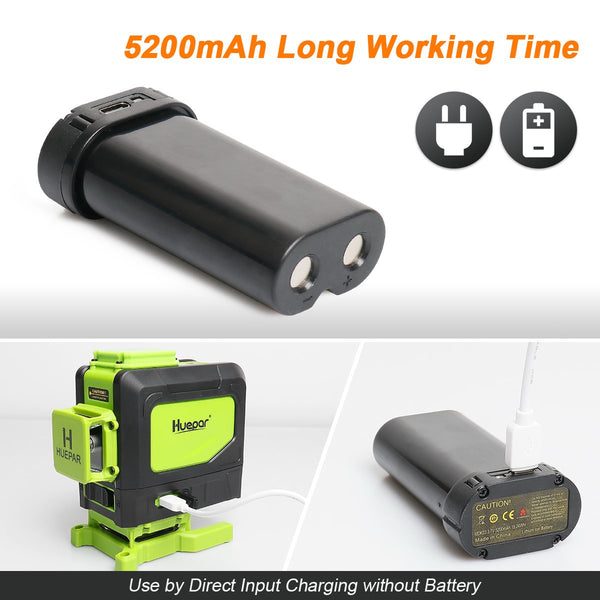 Diverse Power Supply
Large-capacity li-ion battery: 6-8 hours of extra-long working & Can be charged with type-c port.
Bare battery charging: with type-c port.
Direct input charging: This floor laser level can be used at job site with direct input charging even if take out the battery.
Charging protection help prevent the tool from overcharge.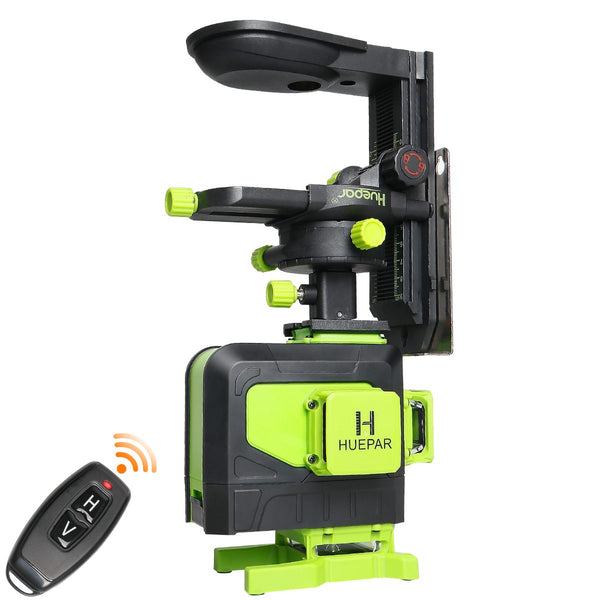 Easy to Use
1. 360° Strong Magnetic Pivoting Base: Allows for attachment to metal track and steel,supporting you to turn the laser level around at 360 degree, projecting lines at any angle.
2. Mount Size: 1/4"-20 mounting threads for temporarily fastening in place or being fixed on tripod.
We are confident of the quality of our products and offer 24 month Warranty( only for official website orders)
Huepar has established warehouses in the United States, Britain, Germany, Poland, Spain, and China to provide fast delivery services for every consumer.
The time frame of an order delivery is divided into two parts:
Processing time: 1-2 working days
Shipping time: 2-5 working days
PREMIUM SERVICE, SUPERIOR QUALITY
24/7 Premium service team
Equipped with factory-trained experts, Huepar's consumer service team strives to find the right solution for your needs – from advice to sales and repair & maintenance services.
You can enjoy efficient support from Huepar- we promise to respond in 24hrs and solve the problem in 48hrs.

Lifetime Customer Support
All Huepar products come with lifetime customer support - no worries about exceeding the service period.
All product defects, such as accuracy malfunction, battery and charger damage and requests for replacement parts will be dealt with on time, every time.