SPECIFICATIONS
24-MONTH WARRANTY
FREE SHIPPING
GREAT SUPPORT
REVIEWS


SPECIFICATIONS:
Laser Class: Class 2 (IEC/EN60825-1/2014), <1mW power output

Screen type:LCD screen with backlight

Laser Wavelength: Germany Osram 505nm-520nm

Horizontal/Vertical Accuracy: ±2mm/10m, ±1/13 in. at 33 ft

Leveling/Compensation Range: 3.5°±1°

Working Distance (Line): ≥20m, ≥40m with detector 

Operating Time with Lithium Battery: 5 hours with all laser beams on

Operating Time with AA Batteries: 0.5 hours with all laser beams on

Power Source: Li-ion battery&4×˝AA˝ (LR6) batteries

IP Rating: IP54

Operation Temperature Range: Between -10℃ and +50℃

Mount Size: 1/4"-20 
LR-6RG Technical Details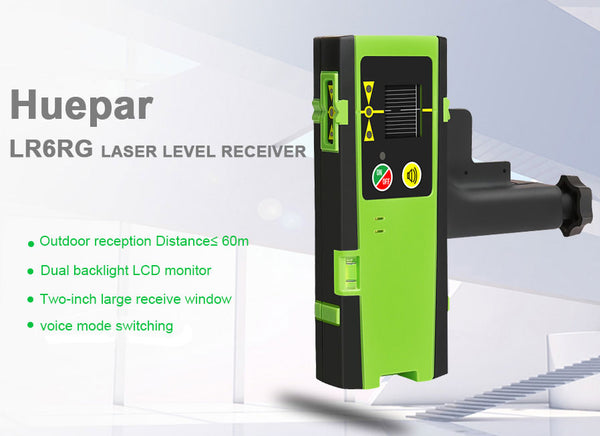 SPECIFICATIONS:
Pulse duration: 50 μs ; PWM: 5:5

Frequency: 10KHz

Display: Dual LCD Display

Leveling Accuracy (High): ±1.5mm(±1/17 In.)

Laser Reception Window Width/Height: 20mm(4/5 In.)

Working Distance: 60m(200ft)

Operating Time:  70 hours

Power Source: 1*9V Dry Battery

Dimension (LxWxH): 140.5mm×60mm×35mm(5.5 x 2.5 x 1.5 inches)

Storage Temperature Range: -25℃ to + 70℃

Weight: 143g with battery
TPD14 Technical Details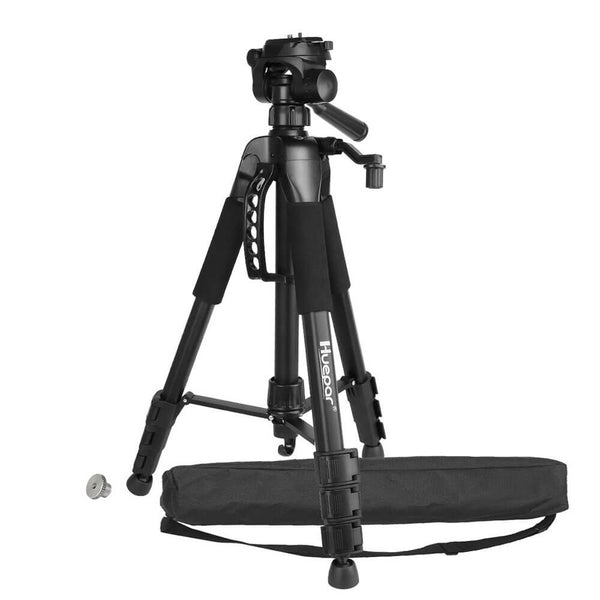 SPECIFICATIONS:
Screw Mount Size: 1/4"-20, 5/8"-11

Leg Sections: 4 Sections

Leg Locking Type: Pull Buckle

Head Type: Ball Head

Pan Range: 360°

Tilt Range: 180°

Lateral Tilt: 90°

Load Capacity: 22.05 lb (10.0 kg)

Folded Length: 19.7" (50 cm)

Min Height: 18.6" (48 cm)

Max Height: 56.3" (143 cm)

Max Tube Diameter: 0.9" (23mm)
GL01G Technical Details
SPECIFICATIONS:
Level: Safety           

Color: GreenWeight: 120g

Apply For: Green Beam Cross Line/Rotary Lasers

Functions: Laser Enhancement / Eye Protective Goggle Glasses

Suitable For: Paint & Decorating / Electrical / Plumbing / Metalworking / Tiling

.

Glasses Size:15x15.2x5.3cm

Package Size: 8x17.5x6.5cm
We are confident of the quality of our products and offer 24 month Warranty( only for official website orders)
Huepar has established warehouses in the United States, Britain, Germany, Poland, Spain, and China to provide fast delivery services for every consumer.
The time frame of an order delivery is divided into two parts:
Processing time: 1-2 working days
Shipping time: 2-5 working days
PREMIUM SERVICE, SUPERIOR QUALITY
24/7 Premium service team
Equipped with factory-trained experts, Huepar's consumer service team strives to find the right solution for your needs – from advice to sales and repair & maintenance services.
You can enjoy efficient support from Huepar- we promise to respond in 24hrs and solve the problem in 48hrs.

Lifetime Customer Support
All Huepar products come with lifetime customer support - no worries about exceeding the service period.
All product defects, such as accuracy malfunction, battery and charger damage and requests for replacement parts will be dealt with on time, every time.